Ciao VX1 Coffee Machine
Delivery policy
Next working day delivery if ordered by 2.30pm
The Ciao VX1 is a stunning Bean to Cup commercial coffee machine, featuring all the latest technology which delivers high quality coffee shop quality drinks.
Self service solution suited to convenience stores, cafes, restaurants, hotels, pubs/bars, takeaway, offices and retail shops.
The 'High Pressure' brewing system ensures that coffee shop quality coffee is produced at the touch of a button.
Due to the precision components and design, the V X1 is the perfect Bean to Cup Coffee Machine for medium to high usage sites looking to provide customers and staff with a premium Espresso, Cappuccino, Latte, Flat White, Mocha or Hot Chocolate.
In addition to the elegant smoked glass door and user-friendly touchscreen, the VX1 also boasts customisable mood lighting, perfect for a Self-Service.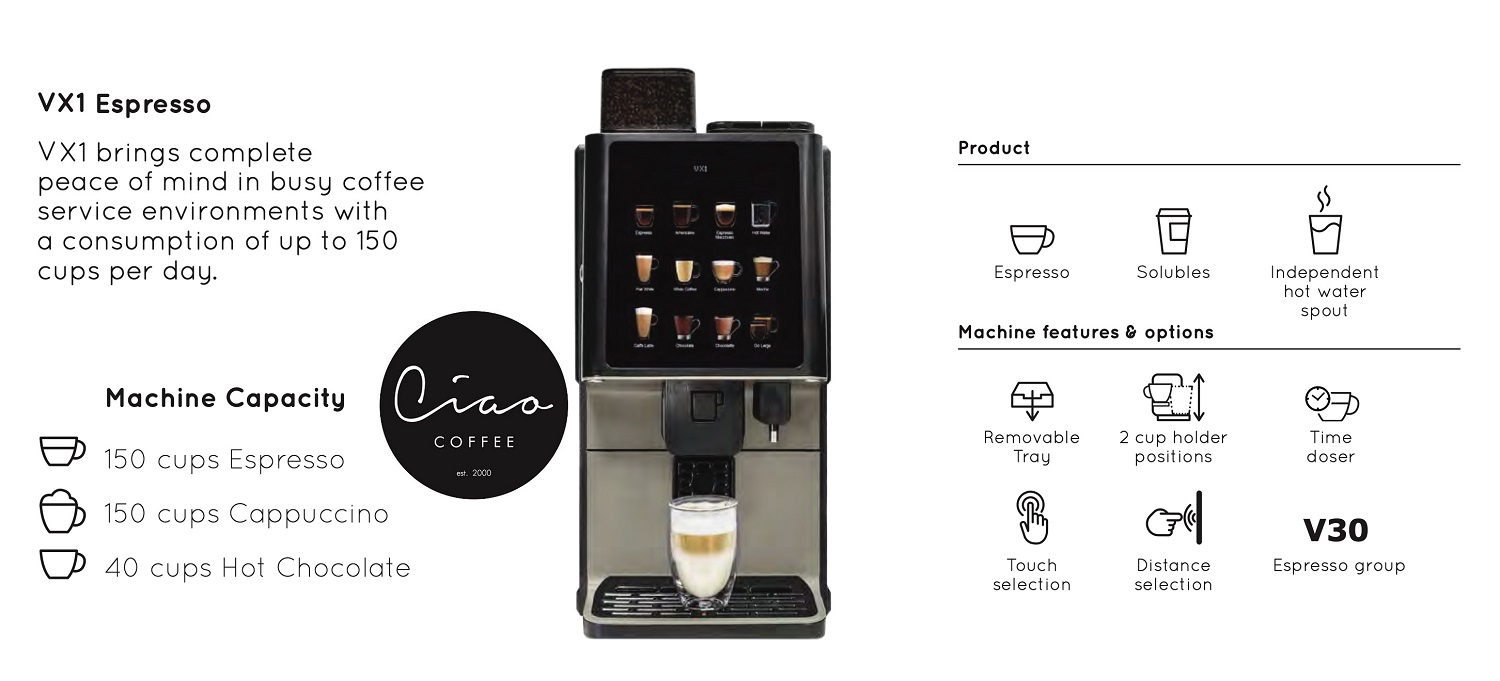 VX1 is an elegant and contemporary looking compact coffee machine that has been developed with attention to detail and with the best material finishes, providing it with a unique premium identity. Its design compliments any area in an office, hotel, leisure centre or convenience store.
Easy to use and maintain which delivers consumers with a consistent high street quality coffee drink. It offers velvety chocolates and the very best coffee preparation, from the bean to the cup. A full process of coffee grinding, tamping and brewing are made automatically in a matter of seconds.
Independent hot water allows the consumer to prepare tea & delicate infusions at ease with clean fresh hot water.
Simple Selection
The contemporary look of the machine will grab the attention of your customers. Furthermore, the elegant and intuitive selection panel will tempt your customers to purchase. In a matter of seconds, they'll have the drink they really want to drink in their hands.
Durable
Made for high demand locations where machine limits are tested. You can face any peak service period with complete peace of mind as every single drink delivers exactly what your customers want.
Features
✔ Smoked glass contemporary finish
✔ Touch screen and distance selection interface. No contact required.
✔ Twin pouring spouts
✔ LED drink button icons
✔ One touch selection 
✔ LED lit drinks preparation zone
✔ Easy to clean 
✔ Mood lighting
✔ Fast drink dispensing
12 Drink Options (7-14oz)
✔ Black Coffee
✔ White Coffee
✔ Flat White
✔ Cappuccino
✔ Latte
✔ Latte Macciato
✔ Mocha
✔ Hot Chocolate
✔ Hot Water for Teas
Options
Plumbed into mains or pump and tank system
Specifications
Dimensions – Width 33.7cm x Height 67.2cm x Depth 50.5cm
Power – 230v 6.5Amp 1.8Kw 
Weight – 30kg
Price Includes
✔ Delivery, engineer installation and training
✔ 2,000 coffee drinks pack inc. Ciao branded cups and lids
✔ Water filter or pump and tank kit
✔ 12 months worth of cleaning accessories
✔ 12 months warranty + life-time support