Mr. Slush® is dedicated to providing the UK with only the highest quality slush machines and syrups. With an uncompromising commitment to quality, value, expertise and service.

We are the official Mr Slush® and we specialise in all slush related products and services. With 17 years experience and thousands of delighted customers, we offer a complete slush solution for our retailers. A Mr Slush retailer can earn between £3,000 to £20,000 each year selling our slush brand. Millions of our slush drinks are sold each year in the UK.
Our success is down to a simple philosophy. Sell only the finest quality, tastiest slush drinks, served using only the highest quality equipment available, which keeps our retailers reliably selling slush while making huge margins.
Our Slush Machine Range offers only genuine Italian and Spanish brands such as Sencotel, designed for ultimate reliability and which last 15 years. Backed up with on-site parts and labour warranty and life-time support we do not sell unreliable cheap fake slush puppy machine copies from the far East which have entered the UK slush market recently. If you are looking to purchase buy or rent a Slush Puppie machine, call us first.


Why buy your slush supplies from Mr Slush - We firmly believe we offer the best slush drinks solution in the UK.
✔ Leading UK slush specialists company
✔ Premium quality slush supplies
✔ Slush machines with stock that pay for themselves
✔ Flexible payment options
✔ National on-site engineer support
✔ Lifetime slush machine support
✔ Slush Club discounts & rewards
✔ Excellent branding, point of sale range
✔ 3 Years on-site parts and labour warranty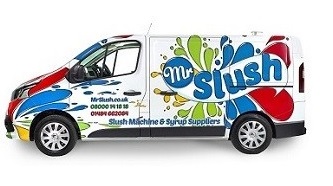 Premium Slush Syrup? Mr Slush® available in 16 delicious flavours with Real sugar, no added sweeteners.
Real Fruit Slush? Mr Slush 99% Fruit™ with 4 amazing flavour choices. No added sugar and 1 of your 5 a day.
Sugar Free Slush? Our tasty Strawberry & Blue Raspberry. Same great taste but without the added sugar.
Frozen Cocktail Slush? We are the UK's No. 1 brand; Mr Slushed®.


Our Slush Machine Starter Packs Our Ciao Coffee to Go Machine
Ask us about our Ciao Coffee to Go machines, ideal for convenience stores and forecourts. We offer a one stop shop for hot and frozen drinks, all year round.
You too can start selling the most exciting slush brand in the UK and make thousands of pounds of additional profits from tomorrow. Similar quality to Slush Puppie but without the price tag. Triple and double bowl slush maker are our most popular, just add water and slushy syrup. Call us for expert and friendly advice.