Slush Machine - 2 x 10Ltrs GB220
PRICE INCLUDES 2,000 SLUSH DRINKS.
GB220 by Sencotel is a premium and powerful counter top slush maker which is robust and extremely reliable. Our slush equipment come with enough slush supplies to pay for your investment and comes with on-site parts and labour warranty.
Delivery policy
Next working day delivery if ordered by 2.30pm
Slush Machine 2 x 10 Litres GB220 (Twin Tanks) – 2,000 Mr Slush drinks pack included
The UK slush market is buoyant and in growth. Estimated to be worth £450M sales value each year. Our customers have been making large profits by investing in premium slush equipment which offer reliability, performance and leading service response support. When you buy a quality slush machine from us, you'll receive more that just a machine in a box.
By retailing our Mr Slush premium slush brand, you will benefit from customer loyalty, sell more beverages and make higher margins. Mr Slush is a recognisable leading brand, made using high quality ingredients that delivers superior quality, tasty slush drink. Millions of our slushies are consumed every year in the UK.
The twin tank GB220 slush maker is a high performance, multi-freeze, premium machine. Designed to last 10+ years, they have a compact counter footprint, just 40 cm wide. The slush tank holds a total of 20 Litres of product which freezes down within an hour from ambient temperature. This will dispense up to 100 slush drinks (200ml) or 60 slush drinks (385ml).
Why buy this slush machine bundle?
❆ Heritage – Our best selling machine range over the last 20 years. Genuine European brand.
❆ Performance – High volume capacity, powerful, robust, reliable, independent tank settings, multi-use, expect 10+ years of usage.
❆ Stylish – Eye catching, build quality immediately noticeable. High impact branding.
❆ Warranty – Up to 36 months on-site parts and labour warranty + equipment lifetime support.
❆ Flexible – Lease options available + 2,000 drink starter pack worth up to £2,500 which pays for your investment.
❆ Delivery – Next working day ready to use.
❆ Efficiency – Only 900 Watts, inexpensive to run. Easy to clean and maintain.
This machine is also capable of producing alcoholic based iced slush cocktails such as Strawberry Daiquiri.
Often referred to as a Slush Puppy Machine, we offer a range of purchase options such as outright purchase, lease rental and lease purchase.
Other Features;
❆ Night time energy saving setting
❆ Independent tank settings
❆ Adjustable product density settings
❆ Efficient low running cost
❆ Drip tray 'full' indicator
❆ Easy clean assembly
❆ High quality components
❆ Stainless steel panels and evaporator
❆ Heavy duty motor gear boxes
❆ Sealed compressor
❆ Environmentally friendly refrigeration
❆ Air cooled
❆ Illuminated slush tank lid
Dimensions – W40cm x D52cm x H86cm
Power – 900 watts
What's Included;
Mr. Slush Syrup - 12 x 5 Litres
Slush Cups x 1,000 + Dome Lids x 1,000
Slush Straws x 2,000
Point of Sale Pack (Posters) + Optional Machine Branding
Mixing Containers x 2
Cleaning and Maintenance Kit

1 Year On-Site Parts and Labour Warranty plus Lifetime Support
3 Year On-Site Parts and Labour Warranty plus Lifetime Support if you are exclusively buying our slush supplies
The best slush machines deserve the best slush syrups. Learn more about our premium slush brand 'Mr.Slush'.
Buy this slush machine before 12pm and receive next working day, subject to confirmed payment being received and security checks.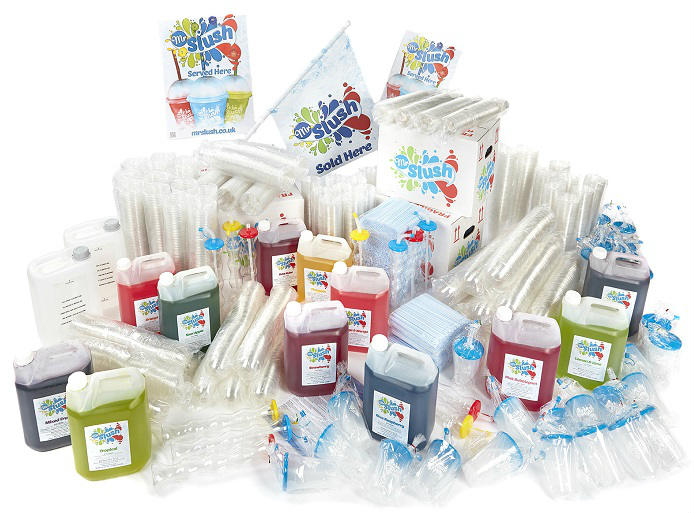 Customers who bought this product also bought: