Strawberry Daiquiri Slush Syrup
Strawberry Daiquiri slush concentrated syrup by the 4x5Ltr case, which makes premium iced slush cocktails. Mr Slushed® Strawberry Daiquiri slush syrup is a premium concentrate which is mixed with water and a spirit of your choice directly into your slush machine tank to make real Daiquiri iced slush cocktails. Buy your cocktail slush syrups online and receive next working day.
Delivery policy
Next working day delivery if ordered by 2.30pm
Strawberry Daiquiri Slush Syrup 4 x 5Ltr Case


Mr Slushed® is a premium cocktail slush syrup concentrate, made with exacting attention to quality, using a complicated 2 step manufacturing process which ensures more than just a cocktail flavoured slush concentrate. All you need to make premium frozen cocktails is Mr Slushed, the appropriate alcohol, some water and a premium slush machine, powerful enough to freeze alcohol.


The mix ratio can vary slightly but as a guide, the ratios are 1 part Mr Slushed cocktail slush syrup, 1 part spirit such as Vodka or Rum and 4 parts water. Simply pour these directly into your slush machine tank and turn the machine on to freeze mode. Your cocktail slushies will be ready to serve within the hour.


Strawberry Daiquiri slush syrup is manufactured using only premium grade ingredients, including real British sugar. Our professional 2 step manufacturing process incorporates high-temperature pasteurisation and high-pressure homogenisation which guarantees a consistent and high quality product. Our Daiquiri slush for iced cocktails is more than just a slush concentrate flavour, it delivers a real bright red Strawberry Daiquiri cocktail slush drink.


Selling Mr Slushed slush cocktails is very popular and profitable. The average cost to make a 200ml (7oz) slush cocktail is just 10p for the concentrate mix and approx. 40p-50p for the spirit, depending on which brand you decide to use. The usual selling price ranges between £4.00 to £7.50 for each drink.


Available in full cases of 4 x 5Ltr or cases can also be mixed with any of our eight flavours. For trade customers or larger volume sites, you may wish to consider our discounted trade bulk purchase offers. Buy your slush supplies on-line and you'll receive your order the very next working day.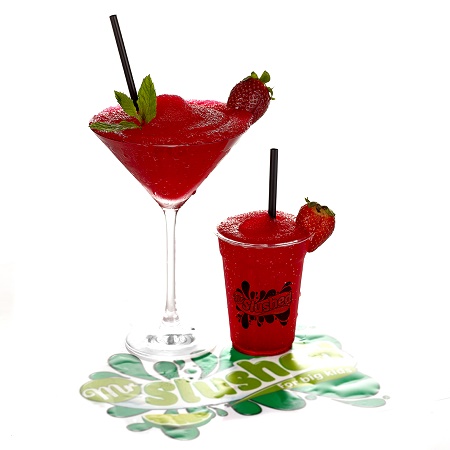 Customers who bought this product also bought: