Slush Machine - 2 x 10Ltrs GB220
Sencotel GB220 commercial twin tank slush machine 2x10Ltrs - compact, robust and reliable. Unbranded or branded options available. Delivered next working day. 
Delivery policy
Next working day delivery if ordered by 2.30pm
The twin tank GB220 is a high performance, multi-freeze, premium machine. Designed to last 10 years, they feature a compact counter footprint, just 40 cm wide and 47cm in depth. The slush tank holds 20 Litres of slush product which equates to 100 slush drinks (7oz) or 66 drinks (12oz). 
Why buy this slush machine?
❆ Heritage - Our best selling machine range over the last 20 years. Genuine European brand.
❆ Performance - High volume capacity, powerful, robust, reliable, independent tank settings, multi-use, expect 10+ years of usage.
❆ Stylish - Eye catching, build quality noticeable and looks great when branded.
❆ Warranty - 12 months on-site parts and labour warranty.
❆ Flexible - Lease options available
❆ Delivery - Next working day delivery on a mini pallet. Ready to use.
❆ Efficiency - Only 650 Watts, inexpensive to run. Easy to clean and maintain.
We offer a range of purchase options such as outright purchase, lease rental and lease purchase. 
Other Features;
❆ Night energy saving setting
❆ Adjustable product consistency
❆ Lit tank lids
❆ Stainless steel panels
❆ Efficient low running cost
❆ Drip tray 'full' warning
❆ Easy clean and reassembly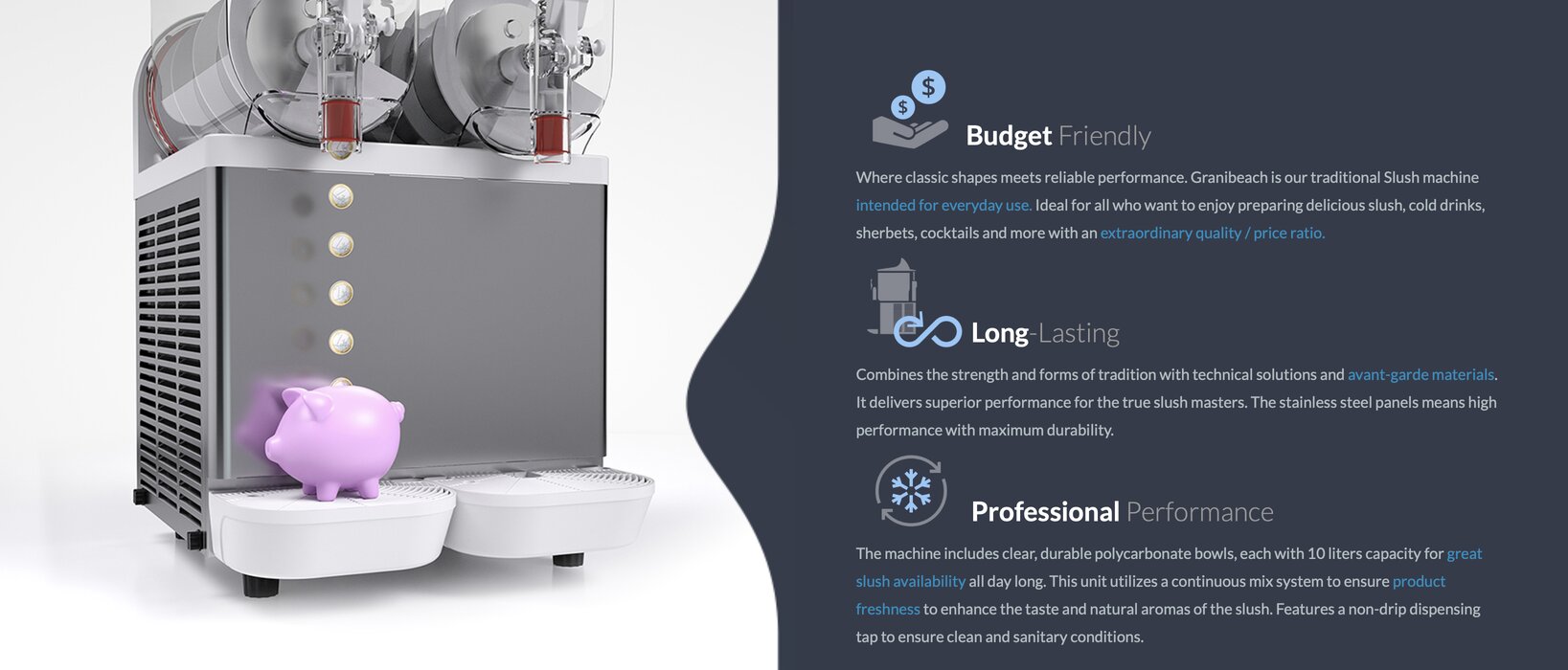 What's Included;
Delivery by courier on a mini pallet
Instructions and cleaning / maintenance kit
Free slush syrup tubs, 2 x 5Ltrs - to tease you into tasting our syrups
12 months warranty plus ongoing support 

The best equipment deserves the best syrups. Learn more about our premium slush brand 'Mr.Slush'.
Upgrade to our fully branded solution which includes a branded machine and receive;
A fully branded slush machine
Machine discount
2,000 drinks for an extra £300 + VAT. (worth £2,400 at retail) 
When you upgrade, you will receive 12x5Ltr premium syrups, 2,000 branded Mr Slush cups, 2,000 dome lids, 2,000 straws, ratio mixing jugs, novelty cups pack and a high quality point of sale pack.
Order by 12pm and receive within 2 working days (usually next working day).
Customers who bought this product also bought: